Webinar: Making Data Actionable for Sales
April 13 • 11:00 AM ET
With 40% of surveyed data professionals reporting to Sales/Distribution, the need to convert raw data into actionable insights that drive product and distribution strategies is critical. Highlighting wholesaler success stories, while providing a behind-the-scenes look at data as it relates to internal quality checks, the evolution of Sales territories, and business strategies, this virtual roundtable will provide real-time peer-to-peer access.
Led by Alex Gardner, Head of Product at Diamond Hill, registered data professionals are invited to bring wholesalers to the joint discussion about the successes and challenges of data's impact on the Sales experience.
Note: Registrants have the opportunity to bring wholesalers to the joint discussion.
To submit a topic or question in advance, please email esherman@smithgroupinc.com.
PRESENTER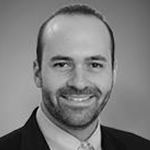 Alex Gardner, CIMA®, CIPM, Head of Product — Diamond Hill
Alex serves as Head of Product for Diamond Hill Capital Management, Inc. He joined Diamond Hill in 2008. Alex has a Bachelor of Science in Business Administration (Finance) from The Ohio State University (cum laude) and holds the Series 7 and 24 FINRA securities licenses.