DataInnovatorsSM, the new community that connects Business Intelligence, Data & Analytics, Product, and Distribution professionals, is now open to investment management professionals.
With over 100 individuals from more than 25 industry-leading firms having participated in our kickoff discussions, subscriptions continue to grow in this burgeoning community.
2018 Community Offerings:
• Access to network of industry peers in areas of Business Intelligence, Data & Analytics, Product, and Distribution
• Content hub with exclusive member, vendor and expert-authored content
— Newly launched podcast series
— Survey insights
— Coming soon: timely whitepapers
• Member-driven discussions around key industry issues
— Best practice-focused webinars and events
— First-look access to new technologies and tools
— Professional development and team strategy workshops
With planning for our live Fall event underway, stay tuned for upcoming webinars.
Single Version of Truth: Client Data Toolbox
LISTEN
Who We Are
To ensure the best community experience, the DI team blends SGI's management expertise with the inside perspectives of three investment management professionals.

Libby Hastert, Program Manager
With experience in communications and marketing in the biotech, corporate communications and now financial services industry, Libby brought her expertise to a number of SGI clients. Among her many accomplishments is the development of a digital content system called ContentCompleteSM. As Program Manager for DI, she works to connect Business Intelligence professionals in the investment management sector with peers and experts, helping firms to continue to build resources and teams.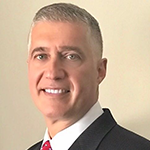 Dan Faller, Experienced Asset Management Sales & Data Professional
After nearly two decades in the investment management industry, Dan brings innovative sales enablement expertise to the discussion. With a specialty in productivity and profitability enhancement, Dan has a track record of proven excellence in areas of financial analysis, strategy development and operational improvement skills.

Ken Burd, Business Manager – Client Group — Macquarie Investment Management | MIM Americas
Ken facilitates distribution strategy, design, implementation and tracking, while also coordinating expense reporting, and headcount forecasting. Ken manages the Sales Strategy & Analytics team, which focuses on translating internal and external data into usable information with the intent of driving distribution alpha across both the retail and institutional distribution teams.

John Pumphrey, Vice President & Director of Distribution Analytics — Eaton Vance Distributors
John is responsible for data integrity and sales analytics within Eaton Vance Distributors. He acts as a liaison to IT, mutual fund operations and financial for all systems used, including customer relationship management, compensation and mobile devices.